74 Gluten-Free Christmas Appetizers You'll Love!
No one will miss the gluten in this amazing collection of appetizers that are as delicious as they are beautiful.
If you have celiac disease (like me and ~1% of Americans) or are gluten intolerant (like ~6% of Americans), you can still fully participate in important traditions while on the gluten-free diet. Really! My daughter and I have been doing so for years.
Host a party. Or bring your own epic meal to others' Christmas parties and make one of these delicious gluten-free appetizers to share. You've got this!
And to those amazing people searching for the best gluten-free holiday appetizers to delight a gluten-free guest, thank you!
Some of the links on this post are affiliate links. To learn more, visit our Disclosures.
This super easy Butternut Squash & Pear Soup Recipe is a creamy, winter soup that everyone is sure to enjoy. It's loaded with nutrition and the nutty flavor of butternut squash, plus pears and just the right seasonings.
The simple garnishes will dress it up beautifully for your holiday table.
More Gluten-Free Soup Recipes
Soup is a light and colorful addition to your Christmas dinner. Try one of these festive recipes! Start with a broth that is labeled gluten-free, like Pacific Foods.
Ham & Bean Soup to Use Up Leftover Christmas Ham
When the wrapping paper is all cleaned up and the Christmas dishes have been washed, you'll need to figure out what to do with leftover Christmas ham. This Instant Pot Ham & Bean Soup will turn it into the perfect cozy winter meal.
Mussels are a must-have at the Italian Feast of the Seven Fishes every Christmas Eve. Mix up your traditional lineup with this beautiful, Chilean-inspired appetizer.
Tigres Rabiosos features mussels, seasoned and cooked in white wine, then generously covered in a homemade tomato-based sauce. It's a beautiful addition to any holiday table.
More Appetizers for Your Gluten-Free Feast of the Seven Fishes
Bloody Mary Shooters with Shrimp or Oysters serve double duty as both a cocktail and an appetizer. This no-fail recipe will match your Christmas color scheme as is, or you can bump it up even more with olives and cherry tomatoes.
A couple of gluten-free housekeeping notes, due to the distillation process, vodka is considered gluten-free even if it starts from a gluten-containing grain (but there can be gluten in added flavorings). Also, stick to a gluten-free brand of Worcestershire Sauce.
More Savory Shrimp Appetizers
Impress your guests with fancy Prosciutto-Wrapped Dates this Christmas. They are the perfect bite-sized appetizer for holiday parties.
Prepare the dates in advance and store them in the fridge. Warm them up right before your party and delight your guests with the irresistible combination of caramelized sweet dates, creamy goat cheese, and salty prosciutto.
More Prosciutto Appetizers
Prosciutto is the hero ingredient in each of these easy recipes. Whether simply cured or fully cooked, it adds a salty savory edge that pairs beautifully with the other items in each recipe.
Cranberries are the berry of the holiday season. Celebrate with Cranberry Orange Meatballs, a fun, Christmas twist on a classic appetizer. The sauce is tangy from the cranberries and sweet and fruity from the orange and brown sugar.
Another make-ahead appetizer, the meatballs can be stored in the freezer until your holiday party.
More Gluten-Free Meatball Recipes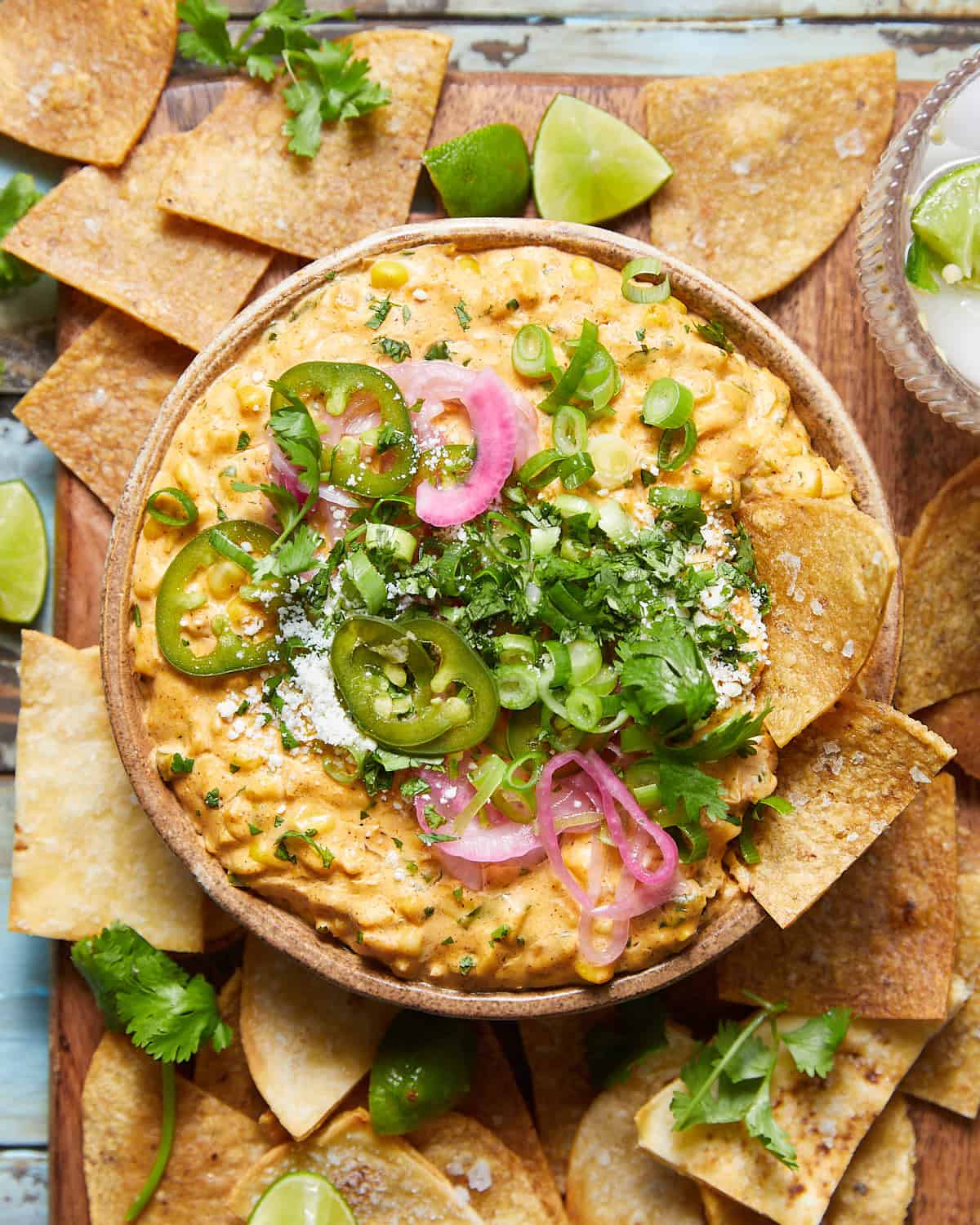 Whether you want something to go with your Christmas Eve tamales or you are looking for a holiday appetizer with an international flair, Hot Elote Dip will not disappoint.
Loaded with corn, cheese, spices, cilantro, and fresh lime, this fabulous appetizer is essentially deconstructed elote (the popular Mexican street corn) in creamy dip form.  
More Latin-Inspired Christmas Appetizers
Aside from being fast and fabulous in the air fryer, these artichokes will not take up precious oven space on a busy cooking day.
Air Fryer Artichokes with olive oil and lemon have all of the flavors of being roasted in the oven (actually, better!) and are served with garlic aioli.
More Veggie Appetizers
Making a classically impressive charcuterie board with zero gluten is easier than you think. The magic is in its simplicity. Simple ingredients come together easily into a work of art for the eyes and taste buds.
Follow my DIY guide to make a Gluten-Free Charcuterie board. Once you discover how easy it is, you'll be looking for an excuse to make one for every occasion. Thankfully, New Year's Eve is just around the corner.
Add these sweet and savory pecans to your charcuterie board. Your guests will love snacking on them, while you put the finishing touches on your Christmas dinner. Simple and delicious, pecans are the perfect nut of the season.
While nuts are naturally gluten-free, they can have cross-contact with gluten-containing grains during packaging. I personally order gluten-free nuts from Nuts.com to avoid cross-contamination.
More Gluten-Free Recipes for a Festive Charcuterie Board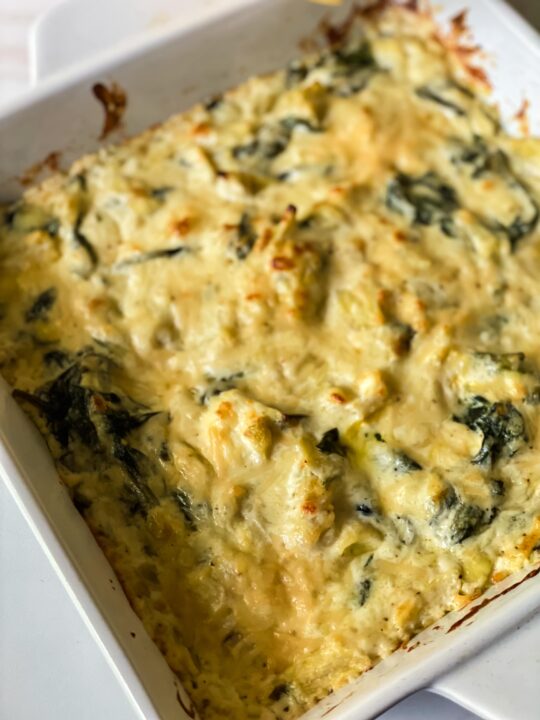 Creamy, gooey, and delicious, Spinach Artichoke Dip is an amazing way to start your holiday meal. Serve with these gluten-free pretzel crisps (more charming than traditional pretzels), gluten-free crackers, tortilla chips, toasted French bread, or even a crudités platter for a lighter combination with this rich dish. Everyone's favorite dip also pairs perfectly with the homemade gluten-free breads we'll get to soon.
More Fabulous Dip Recipes
Gluten-Free Garlic Knots are the most amazing rolls. They are soft and bready on the inside with a perfect pizza-style crust. Let these fabulous rolls rise in the fridge for 24 hours, bake them as guests arrive, and serve garlic knots straight out of the oven for simple holiday entertaining.
Please note, the magic of these garlic knots is in the gluten-free wheat starch, which is suitable for individuals with celiac disease, but not safe for those with a wheat allergy.
More Gluten-Free Bread Inspiration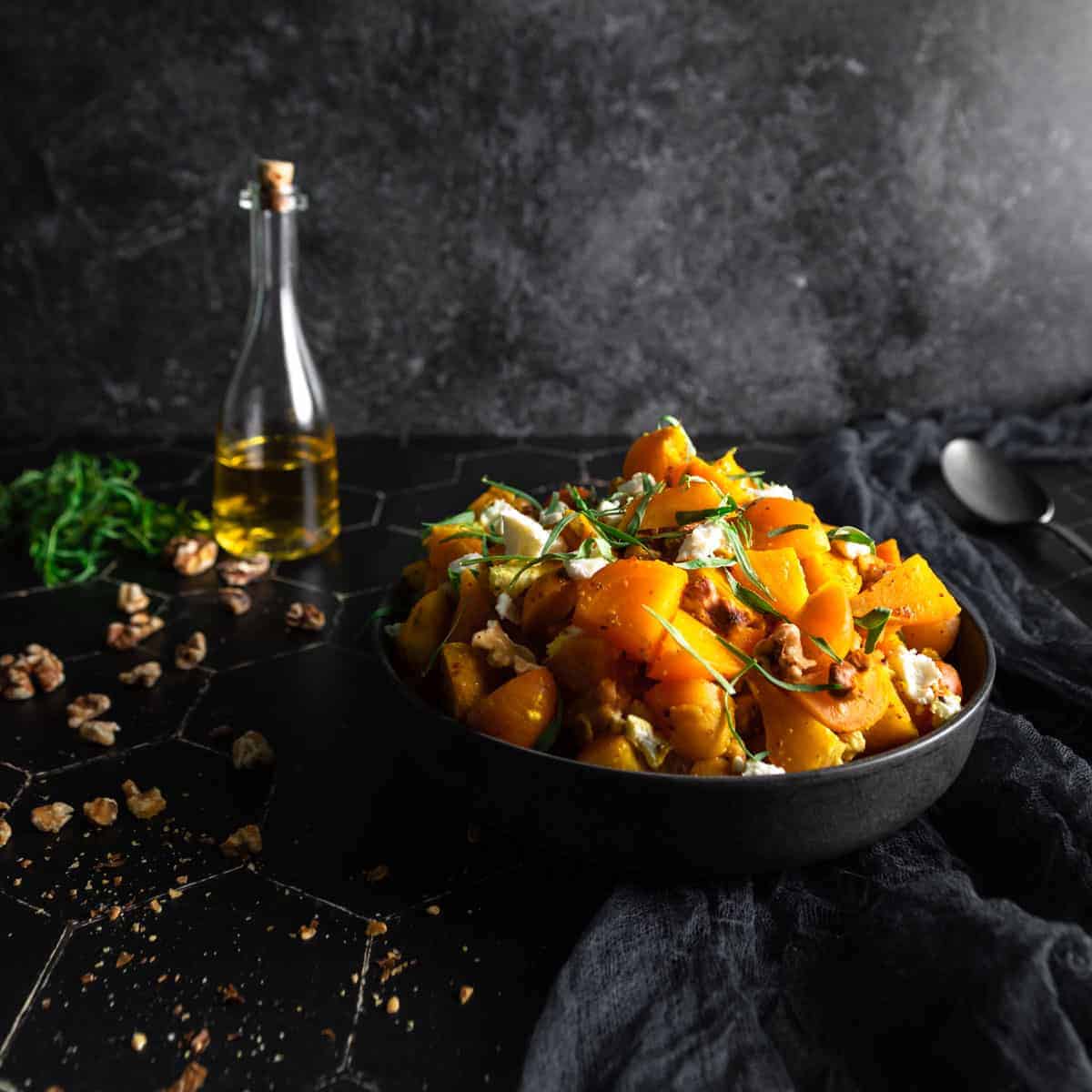 Serve this stunning Golden Beet Salad, full of roasted golden beets, toasted walnuts, and tangy goat cheese, as the starter for your holiday dinner. It's healthy, delicious, and beautiful, worthy of a special occasion.
More Seasonal Salad Ideas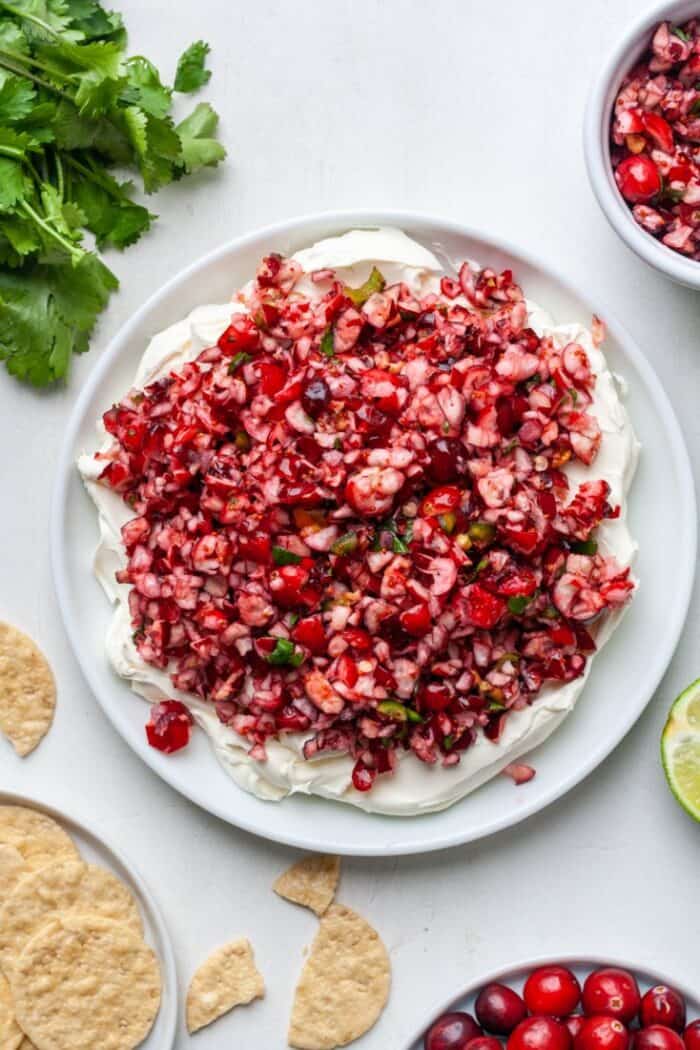 Step aside cranberry brie! Cranberry Jalapeño Dip paired with cream cheese is a fun twist on a seasonal staple. Tart from cranberries, sweet from honey, and spicy from jalpeños. Serve with gluten-free crackers or pretzels.
Better, yet, pick up a bag of Siete's certified gluten-free Cinnamon Churro Chips for a guaranteed crowd-pleaser.
More Cranberry Relish Recipes
If a cranberry appetizer without brie is a bridge too far, I have you covered with these charming Cranberry Brie Tartlets. These festive appetizers combine creamy brie with tangy, sweet cranberry sauce in an almond flour crust
More Fruit & Cheese Combos
Set out gluten-free crackers, gluten-free bread, and apples, or pick one of these delicious options to make your charcuterie board more festive.
Please indulge me with one more cranberry cheese appetizer, the amazing Bacon-Cranberry-Cheese Sweet Potato 'Crostini'. Roasted sweet potato rounds are a brilliant fill-in for the classic crostini and the perfect starter for a holiday party.
Wishing you a healthy and joy-filled Christmas and a Happy New Year!
Related Posts: