Gluten-Free Sedona (Including Grand Canyon & Phoenix Road Trips)
Stunning. Peaceful. Grand.
Sedona, Arizona is a uniquely breathtaking getaway.
You know the kind of vacation that you wish could last? Not just for another week. For years. You're in a hammock in Costa Rica listening to monkeys, relaxing on a beach chair lulled by ocean waves, or hiking in the middle of nature taking in views you can't describe with words… and you think, I could live here.
I had a few moments like that during a recent vacation in Sedona, Arizona. The red rock views had me checking home prices more than once. Admittedly, the perfect spring weather may have been a factor.
And the gluten-free options definitely were a factor.
So, pack your bags for a Sedona getaway with unforgettable views and wonderful gluten-free food.
Some of the links on this post are affiliate links. To learn more, visit our Disclosures.
Gluten-Free Food & Treats in Sedona
Sedona caters to the health-conscious crowd, which generally opens up more opportunities to find gluten-free food. This was definitely the case in Sedona. There were more restaurants with gluten-free options than I had time to visit.
Here are a few excellent gluten-free recommendations for your Sedona vacation:
Picazzo's Healthy Italian Kitchen
1855 W. Highway 89A, Sedona, AZ
Picazzo's Healthy Italian Kitchen Sedona is amazing and reason alone to consider a trip to Arizona.
This organic restaurant will blow you away with its gluten-free menu.
If you have celiac disease or gluten intolerance, you are accustomed to just a handful of gluten-free dishes. The choices at Picazzo's will overwhelm you! In a good way.
The entire place is gluten-free, except for a traditional pizza crust that is prepared separately. You read that correctly, the "regular" pizza is prepared separately.
All of the other amazing food at Picazzo's is gluten-free, appetizers, pasta, meatballs, pizza, focaccia, cheesy bread… Did I mention there are several baked pastas? All gluten-free.
Read the menu and you will be ready to visit Sedona just for a meal at Picazzo's.
You could eat a meal here every day on your Sedona vacation without tiring of the long list of menu items.
On top of nearly everything on the menu being gluten-free, Picazzo's has excellent cross-contamination prevention protocols. When you order, let them know that it's an allergy or celiac disease, and they will take extra precautions to keep your meal safe. The staff has a special button they push when placing an allergy order. The staff told me it's just an extra safeguard because the food is already prepared separately and safely.
Tip! Picazzo's is popular. It turns out everyone loves gluten-free pizza! If you are here during the busy season, plan to come at 11 AM for lunch or 5 PM for dinner. Better yet, place a to-go order and find a lovely spot to sit in nature.
ChocolaTree

1595 West Hwy 89A Sedona, AZ
ChocolaTree is a charming café with an eclectic feel. You'll have your choice of several cozy indoor spaces and outdoor patios. The main patio is peaceful and relaxing.
The entire menu is organic, gluten-free, and vegetarian, with lots of vegan options.
While I am not a vegetarian, having celiac disease has landed me in some wonderful restaurants with deliciously healthy food I was happy to encounter. Chocolatree was one of those experiences.
The four-bean chili is excellent. If I lived in Sedona, I would likely visit Chocolatree weekly just to enjoy a bowl of chili on the peaceful patio. And to visit with the incredibly friendly staff.
If you are already a fan of vegan and vegetarian options, you will find a lot to love here. My husband recommends you try the corn chowder!
ChocolaTree is, of course, known for its chocolate, sold in individual pieces from a display case at the front of the restaurant.
The chocolate flavors are intense and designed to be savored one at a time. The blood orange is fabulous. Initially, you taste a bitter, dark chocolate flavor, that melts into an orange-chocolatey aftertaste. Caramel macchiato was my son CJ's favorite. He appreciates strong flavors and loved the bitter taste of coffee and chocolate. My personal favorite was geranium rose made with maple sugar and beautiful floral notes.
Karen's Bakeshop Gluten-Free
2081 W State Rte 89A Suite #6, Sedona, AZ
We visited Karen's Bakeshop on a day when Karen wasn't there. The employee running the shop had a pin that said, "I'm not Karen". Even without the famous Karen, we found friendly service and plenty of sweet reasons to stop at Karen's Bakeshop.
When I tried the cinnamon roll that was fresh out of the oven, I instantly exclaimed, "Oh, my goodness! MMMMMMM!" It was sooooo good.
Everything in Karen's bakeshop is gluten-free, dairy-free, and made in-house. They also ship their gluten-free bread.
Miss E tried the chocolate brownie, which was a cake-like brownie with, strong, chocolate and coconut flavors. Miss E doesn't like coconut, so I lucked out and got to finish her brownie. This brownie is perfect for coconut fans.
If that's not you, no worries! There are plenty of other options.
Like the beautiful, frosted cookies.
Speaking of beautiful, plan to spend some time sitting in the café, enjoying your sweets, and looking out the wall of windows at the beautiful red rock view.
Chipotle
361 Forest Rd Ste B, Sedona, Arizona
I know, I know… how does Chipotle make the list?
Well, Chipotle is already one of my favorite chains for excellent gluten-free protocols. But this location has more going for it than the average Chipotle.
(You can read more about my favorite chain restaurants in the free Celiac Guide to Dining Out)
Location. It's in downtown Sedona, right next to the Sedona Chamber of Commerce Visitor Center, a great place to get a hiking map and local tourism advice. It's also across the street from the Pink Jeep Adventure Tours meeting point, so you can quickly grab Chipotle before or after a pink jeep tour.
Views. These were, hands-down, the best Chipotle views I have ever encountered. Like many restaurants in Sedona, this Chipotle has wall-to-wall windows with red rock views. Definitely allow time to dine in.
Best of all, spectacular celiac protocols. The staff here was amazing. As soon as I let them know I was "allergic" to the flour tortillas, they started their cross-contamination practices. (Yes, celiac disease is not an allergy, but I often find it easier to say an allergy than celiac disease. An "allergy" usually means more to those working in the restaurant industry.)
The staff changed gloves, washed hands, wiped the counters down, changed out spoons for every item I was going to eat, and got fresh lettuce and cheese from the back. They were friendly the whole time, and not the least bit put out.
One of the employees was new, and I overheard the other employee educating and walking him through the allergy protocol.
More Celiac-Recommended Restaurants
During my Sedona getaway, we enjoyed several homecooked meals in our vacation rental, so I did not have the chance to try all of the wonderful options recommended by local celiacs from Sedona. These restaurants will stay on the list for next time.
Here are some of the top suggestions I have not yet personally vetted:
Unique Starbucks Sedona Drinks
1885 W State Rte 89A, Sedona, Arizona
Starbucks on Route 89A, has two special Sedona drinks. Miss E was a fan of the Sedona Sunrise, a mix of Strawberry Acai Lemonade and Passion Tea. Because this drink was a mix of drinks that she hadn't previously vetted, I gave Starbucks a call to verify that there were no gluten ingredients in the Sedona Sunrise combination. It was safe, but the rep did give the usual disclosure that Starbucks is not a gluten-free restaurant, and there is a chance of cross-contamination.
Note, Starbucks always recommends gluten-free prepackaged items for the safest options. From a corporate perspective, they do not have processes in place to prevent cross-contamination.
However, I have personally found Starbucks' baristas are willing to take steps to prevent cross-contamination if we specifically ask for what we need to be safe. We stick to drinks with no gluten ingredients and request extra steps, such as sanitizing the shaker or having the ingredients poured directly into the cup (using a straw to stir the drink ourselves) to avoid the shaker altogether.
The other special Sedona drink is the Vortex, which contains ice chai tea, oat milk, brown sugar syrup, vanilla sweet cream, cold foam, and an espresso shot. I did not vet the ingredients in this specific drink, but a word of caution about the oat milk, as oats are frequently cross-contaminated with gluten-containing grains in the field and factory. Starbucks usually uses Oatley oat milk, which is certified gluten-free. However, they do sometimes substitute other brands. If you are able to tolerate gluten-free oats, be sure Starbucks is using Oatly. If not, substitute another milk.
Where to Stay in Sedona
Vacation Rental by Owner
The more outdoorsy the vacation, the more I love a vacation rental home. There's something special about spending the day outside exploring and then heading "home" in the evening for a nice (and easy) dinner and family time in a cozy house. A home with jaw-dropping views out every window… even better.
Sedona is the perfect place for a vacation rental.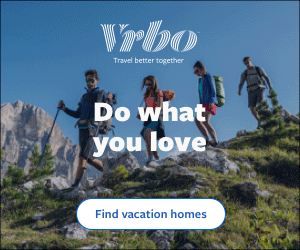 After narrowing your search down by your group size and budget, I highly recommend choosing your Sedona vacation rental based on the vistas. (and always check reviews!)
The house my family chose in West Sedona had stunning views from the master bedroom, kitchen, living room, and dining room, and from the hot tub in the backyard.
My favorite spot was the desk in the master bedroom. I wrote much of this Sedona Guide while looking at this gorgeous view.
If you're going to splurge in Sedona, make it for the view. This is the best thing about Sedona and is worth maximizing on vacation. The good news is that the red rocks are everywhere in Sedona, making a vacation rental home with great views easy to find.
After the view, look at the location. While being close to Route 89A (which often has plenty of traffic) sounds convenient, I recommend getting just a little away from the main drag. Consider homes with about a five-minute drive to Route 89A, along the edges of the developments to get a home within walking distance of hiking trails.
Vacation rentals are especially wonderful for making sure you have safe, gluten-free food away from home. I've created a free Vacation Rental Gluten-Free Meal Planner to simplify your meals:
The Enchantment Resort
If being pampered on vacation is more your style, rather than cooking…
The Enchantment Resort is a five-star resort about 20 minutes from Uptown Sedona. This is where Adventures by Disney houses groups on its over-$5,000-per-person Arizona-Utah Adventure.
Sadly, my April 2020 visit to Enchantment was canceled due to covid shutdowns, and the resort was booked solid for my most recent trip. All of my Enchantment "intel" is based on research done for my covid-canceled-trip.
At Enchantment, you are a world away nestled in the middle of 360-degree red rock views.
There are plenty of hikes by the secluded Enchantment Resort, including the popular Boynton Canyon Trail. Other nearby hikes include Doe Mountain, Bear Mountain, Fay Canyon, and Devil's Bridge. Resort activities include hiking, mountain biking, yoga, painting, the spa, and more.
The resort was highly recommended by a local with celiac disease for its handling of allergies, celiac, and cross-contamination.
Speaking directly with the Chef or Food and Beverage Manager at five-star hotels is the safest way to go. Email your dietary needs before you go, and guest services will usually connect you directly with a Chef or Food and Beverage Manager.
What to Do in Sedona
Most importantly, get outside.
Hiking
I love the AllTrails App for hiking and even use it at home. If you are an avid hiker, you already have it. If not, it will come in handy for exploring trails in Sedona.
Cathedral Rock and Devil's Bridge Hikes are incredible sunrise hikes.
Sugarloaf Loop is an easy family hike with rewarding views at the summit. If you're up for more after you finish the loop, you can continue on to Teacup Trail towards Coffeepot Rock (which looks like a percolator coffee pot).
The weather in April was perfect for hiking. As a SoCal girl, I wore long johns under my workout clothes. The other hikers were just fine wearing pants, long sleeve shirts, and very thin jackets at the most.
In summer, though, the weather can be brutal. Hike early and always with plenty of water.
Hiking is the ideal gluten-free activity because it's always a bring-your-own-food event. Pack a full picnic, or hit the trails with easy hiking snacks:
Sedona Airport Scenic Overlook
If you want the reward of a hike without the actual hike, check out the Sedona Airport Scenic Overlook for a beautiful view of Sedona with a red rock backdrop.
Follow Airport Road from Route 89 up towards the airport. At the top of the road, there's a parking lot where for $3, you can simply cross the street to enjoy the view.
This overlook was recommended to me by the Visitor Center in Sedona, but it is most definitely not an insider tip. As you can imagine, the view without the hike is particularly popular (read, crowded) and beautiful at sunrise and sunset.
Art
With all of the beautiful views and natural colors in Sedona, it's the perfect place for sketching, painting, or photography.
Try a unique experience like this glass-blowing class. Or buy watercolor paper and an inexpensive palette and head out to create on your own masterpiece.
Chapel of the Cross
780 Chapel Rd, Sedona, AZ
The Chapel of the Cross is a working Catholic Church that holds mass. If traveling with children, give them a heads-up about expected behavior. The views behind the altar are, like all the views in Sedona, stunning.
Built into the red rock and finished in 1956, the chapel made the list of Architectural Digest's 10 Most Beautiful Churches around the World.
There is no charge to visit. There are usually golf carts to shuttle you from the parking lot up to the chapel if a member of your group needs assistance. Allow extra time to park as the chapel gets busy and parking is limited.
Pink Adventure Tours
204 N State Rte 89A, Sedona, AZ
Oh, the famous Pink Jeep Tours! There is a reason they are so popular. Off-road driving. Steep inclines. Thrilling rides along red rock rims.
We ran into several people who loved their first outing so much they were on their second or third Pink Jeep tour.
Definitely take a Pink Adventure Tour while in Sedona! Book in advance as they sell out early. If the tours are sold out online, call directly. A phone agent was able to book us on a Broken Arrow time slot that was not on the website. If that doesn't work, be flexible on the tour and timing and keep checking back for cancelations. It's worth it!
Shopping
You'll discover plenty of unique shops full of local crafts and pottery in Uptown Sedona and along the road while exploring the town. It's worth popping in and out of shops when you get the chance.
A charming shopping stop is Tlaquepaque (pronounced T-la-keh-pah-keh), Sedona Arizona's Arts & Crafts Village.
Tlaquepaque is a beautiful place to stroll for 1 to 2 hours. It's fashioned after a traditional Mexican village with cobblestone streets, arched entrances, courtyards, and fountains. You'll find jewelry, glass, leather works, rugs, and more beautiful Southwestern art in these shops and galleries. It's also home to The Secret Garden Cafe, where you will find plenty of gluten-free options.
Getting There
For the shortest drive into Sedona, fly into Flagstaff Pullman Airport (~40 minutes) or Phoenix Sky Harbor Airport (~2 hours).
Like most visitors, though, our trip to Sedona was part of a larger road trip. Ours included Las Vegas, the Grand Canyon, and Sedona, before heading back (via Phoenix) to the Los Angeles area.
Below, I go over top sites and gluten-free food on road trips between the Grand Canyon, Phoenix, and Sedona.
Flagstaff is between the Grand Canyon and Sedona, so we'll also cover stops to make if you're flying into Flagstaff Pullman Airport.
Road Trip Phoenix to Sedona Roundtrip
Stops on Your Road Trip between Phoenix and Sedona
Sedona is only a two-hour drive from Phoenix. On your way to Sedona, take a tour of the ghost town of Jerome, an old mining town. Then head into Sedona via 89A North/East.
On your return from Sedona to Phoenix, go a different route (Highway 179 South) and take advantage of great stops along the way:
Chapel of the Holy Cross: If you didn't fit it in during your stay in Sedona, take a peek on your way out of town, even if you only have time to see the exterior before hitting the road.
Bell Rock: As you continue heading out of town on Highway 179, you'll easily see Bell Rock from the highway. You can stop and hike Bell Rock. If you have a long trip ahead of you like we did, simply wave at Bell Rock on your way home!
Montezuma's Castle: Break up the drive between Sedona and Phoenix with a quick stop at Montezuma's Castle. It's a peaceful walk and a fascinating piece of prehistory. You can pack a picnic and eat by the creek, or sit and enjoy the peaceful surroundings. I'm always up for sneaking a few educational experiences into a family trip.
Gluten-Free Food on Your Phoenix-Sedona Road Trip
Unfortunately, there aren't a lot of great gluten-free options between Sedona and Phoenix. Fill up on good meal before you head out or pack food for the road.
As in Sedona, once you arrive in Phoenix, you will have no shortage of gluten-free restaurants and food options.
Phoenix has most of the chain restaurants you count on from home. Plus, you'll find a few True Food Kitchen locations and the west coast chain In-N-Out. Both have good gluten-free protocols.
More importantly, the amazing Picazzo's has several locations in the greater Phoenix area, so have another go at that giant gluten-free menu before leaving Arizona.
About 10 minutes from Phoenix Sky Harbor Airport is the must-try, dedicated gluten-free Jewel's Bakery and Cafe where you can indulge in donut holes and chicken & waffles.
Where to Stay in Phoenix
Want to spend a little time in the Phoenix area before continuing your road trip or heading home?
I highly recommend the Four Seasons Resort Scottsdale at Troon North. My husband and I stayed there for a few days on a previous trip. I had no idea how beautiful the desert could be! Take time to sit on your private patio and watch the small wildlife scamper by. The staff did an amazing job providing safe, delicious, gluten-free food throughout my stay.
Road Trip Sedona to the Grand Canyon Roundtrip
Views and Stops on Your Road Trip between Sedona and the Grand Canyon
The Grand Canyon South Rim entrance is about a two-hour drive from Sedona, taking the most direct route through Williams, AZ. Stop in Bearizona, Arizona's Drive-Thru Wildlife Park along the way.
But don't take that route heading back to Sedona. You're going on a much more amazing adventure!
Instead of taking 64 South back to Sedona, leave the Grand Canyon via 64 East for the Desert View Drive, a 23-mile route along the South Rim of the Grand Canyon between Grand Canyon Village and Desert View Point. Then take 89 South to Sedona. You'll see some wonderful sites along the way:
The Best Gluten-Free Food on Your Sedona-Grand Canyon Road Trip
One of the best stops on the entire trip between the Grand Canyon and Sedona is in Flagstaff, The Flagstaff Station Market Cafe.
Flagstaff Station Market Café is in an unassuming building at a gas station in Flagstaff. Once you walk inside, you will find a charming café with the best gluten-free options of your journey and an excellent understanding of celiac disease and cross-contamination.
There are several folks working here who either have celiac disease or have celiac disease in the family. They have separate preparation areas and ingredients for gluten-free sandwiches. They make their own gluten-free focaccia in-house and it's fabulous.
Popular items include Belgian-style waffles, gluten-free cinnamon rolls (arrive early to try those), the Humphreys breakfast sandwich, and any of their paninis (which can all be made on the gluten-free focaccia).
CJ was enjoying his glutinous, focaccia sandwich, and exclaimed, "This place is so good!" If you've got a mixed crowd of gluten-free and gluten-eaters, it's the perfect stop.
The beverage menu is as long as the food menu. My daughter, Miss E, tried a mix of gluten-free strawberry freeze and lemonade freeze. She's a fan!
Driving from Flagstaff to Sedona
Per Apple Maps, coming from Flagstaff Pullman Airport, you would have to backtrack 13 minutes to eat at the Flagstaff Station Market Cafe. Unless you are on a tight schedule, the slight detour is well worth it!
On your trip from the Flagstaff Pullman Airport, you'll also get to enjoy the exciting drive to Sedona and a stop at Slide Rock, another worthwhile detour.
Whether you're heading to Sedona for a long weekend or as part of a road trip adventure, it's the perfect spot to enjoy gluten-free and delicious food in a magical setting.
Related Road Trips
Check out more gluten-free outdoor adventures to add to your Western US itinerary: