Ultimate Guide to Gluten-Free in Orange County, CA
While Orange County does not boast quite the huge selection of gluten-free restaurants and bakeries you'll find next door in Los Angeles, we have plenty of options for you to happily nosh your way around for your entire vacation.
My daughter and I have celiac disease and live in Orange County, so these recommendations have been well-tested!
Table of Contents:
Some of the links on this post are affiliate links. To learn more, visit our Disclosures.
Let's start with everyone's favorite category, 100% dedicated gluten-free!
Dedicated Gluten-Free Restaurants & Bakeries
There's nothing better than a completely gluten-free restaurant, and Orange County has several unique options.
Most are not your typical gluten-free bakery. Fine dining, Vietnamese, Hawaiian poke, and a dedicated brewery are all on the list.
Yorba Linda
Oceans & Earth is a completely dedicated gluten-free restaurant. And by restaurant, I mean, a real restaurant, with leather-book-style menus and waiters to take your order. With no gluten.
The food is so exceptional they were once voted the "best gluten-free restaurant in the nation". So you pretty much have to visit if you are in Orange County.
iWe've liked everything we've tried at Oceans & Earth. Monster Guacamole with Housemade Chips. Akaushi Steak Frites with Pecorino & Truffle Oil. Braised Shortrib Stroganoff (my favorite). Flatbread. Crème brûlée. Cobbler. Just to name a few delicious entrees and desserts.
It's entirely possible you'll run out of room before dessert. If that happens, order a seasonal macaroon to go.
Irvine
This 100% gluten-free, Vietnamese restaurant was right in my backyard and I had no idea. I only discovered the small chain when I visited a sister store in San Francisco.
Asian Box is so committed to gluten-free food that employees cannot bring in outside food. Most of the meals are "boxes" (picture the Vietnamese version of design-your-own bowls from Chipotle). You can select or customize one of the curated boxes on the menu or build-your-own with a base, protein, toppers & sauce. My favorite box is the Chicken Curry Box, with added pickled veggies.
Even better than the boxes are the Bahn Mi sandwiches. The bread is fabulous crusty-on-the-outside, soft-on-the-inside French bread. Sadly, Asian Box recently discontinued the Bahn Mi sandwiches only at the Irvine location. So ask! Maybe they'll bring it back.
Chef Gracie's Grandma's Pho is available seasonally.
The giant cookies by the register are so very good and, like the French bread, undetectably gluten-free.
Costa Mesa, Newport Beach (plus locations in Los Angeles County and San Diego County)
At Sweetfin, everything is gluten-free from poke bowls packed with fish, veggies, and rice to poke wraps made with gluten-free tortillas. Poke is a Hawaiian dish with chunks of raw fish, and typically not gluten-free due to soy sauce. Except at Sweetfin!
If you love poke, you'll have plenty of opportunities on a SoCal road trip. This local chain has more than a dozen locations in Los Angeles and a few in the Orange County area and in San Diego.
Fountain Valley
The most popular OC bakery for allergy moms, Sensitive Sweets, caters to individuals with multiple allergies.
Check out this free-of list: free of gluten, free of dairy, free of eggs, free of soy, free of peanuts & tree nuts, free of sesame, and vegan. Whew!
Sensitive Sweets sells adorable push-up cakes and layered cupcake cups. The presentation is lovely. I attended a wedding where the bride thoughtfully ordered a selection of layered cupcake cups from Sensitive Sweets to accommodate multiple wedding guests with special dietary needs.
You'll also find a changing selection of seasonal treats, like pumpkin pie and bunny cookies. Best of all, Sensitive Sweets sells a small gingerbread house kit at Christmastime. Shipping available.
Tustin
Locally made, small-batch beer means you can keep coming back to try something new. The owners are friendly and passionate about making good and safe gluten-free beer.
The beer starts with gluten-free grains, like rice and millet. If you can't visit the taproom, Divine Science beers are available in retail stores in California, from smaller shops to large chains, like BevMo and Total Wine.
While I don't actually drink beer, I can personally vouch for the soft pretzels. One of the owners, Domoníc makes them fresh on Wednesday (the first day of their week) and they sell them until Sunday or when they run out. The soft pretzels alone are worth a visit to Divine Science. My daughter just told me today that we need to go back for more pretzels.
Divine Science Brewing also has pop-up food events about once or twice a month. Sign up for the newsletter on the website, and you may find yourself at their next gluten-free chicken & waffles event!
Laguna Hills
Giselle's is a dedicated gluten-free bakery in Laguna Hills. Everything she makes is gluten-free, vegan, organic, soy-free, corn-free, and refined sugar-free with a focus on quality ingredients. She does, however, use oats in some of her baked goods.
Some of the treats that do not contain oats include pumpkin pie, key lime pie, brownies, and the stunning vegan golden vanilla cake and vegan lemon blueberry cheesecake.
*Oats are naturally gluten-free but can be cross-contaminated with gluten-containing grains in the field and factory. Celiacs should consume only oats that are labeled gluten-free. There are some celiacs who choose not to include even gluten-free oats in their diet due to the risk of cross-contact, and others who cannot tolerate oats.
Dana Point, Costa Mesa, Newport Beach
100% organic, vegan, plant-based, and most importantly, gluten-free.
Like Giselle's, Vibe does have oat products: overnight oats and granola. If you have celiac disease or are otherwise sensitive to gluten cross-contamination, be sure to request no granola on the parfait, waffles, and smoothie bowls.
If you're gluten-free and vegan, Vibe Organic Kitchen & Juice is your place. Buddha burgers, jackfruit tacos, and a flavorful selection of fresh bowls and salads are on the extensive menu at this fast-casual restaurant.
Even non-vegans will love the mixed berry waffles, everything but the bagel toast, and smoothies!
Long Beach
Technically, this dedicated bakery is not in Orange County. It is right over the border in Long Beach (LA County). Depending on where you are in Orange County it can be quite a trek or just a few minutes away.
Here's my best tip! Visit on a Saturday morning when Twice Baked sells fried donuts, donut holes, apple fritters, and churros! You're welcome.
Best Restaurants with Gluten-Free Options
A couple of these restaurants are small regional chains with two or more locations, and some are one-offs.
Important! With the exception of Tastea, which my daughter frequents, all of these restaurants have been vetted by me many times. Even though they pass all of my cross-contamination questions and we have always had good experiences at the restaurants on this list, they are not dedicated gluten-free. Please always ask cross-contamination questions yourself. If the server does not sound knowledgeable, ask for a chef or a manager.
Laguna Beach, San Clemente
I love this place. When I'm in Laguna Beach, I'm often torn between South of Nick's Mexican Kitchen and GG's Bistro downstairs. (We'll cover GG's Bistro next.)
When I want an ocean view or Mexican food, South of Nick's wins out.
While not dedicated gluten-free, the servers have always been extremely knowledgeable and there are a lot of gluten-free options. Enchiladas, tacos, arroz, frijoles, all of your Mexican favorites.
Best of all, they have a dedicated fryer for the chips. Note, one of the three salsas they bring out with the chips is not gluten-free, but my servers have always pointed out which one is not safe. Ask about it, if they don't.
Note: South of Nick's Mexican Kitchen is in San Clemente and Laguna Beach. There are other restaurants (known simply as Nick's) in the Nick's restaurant group in LA, Orange, and San Diego counties, but they have completely different menus than South of Nick's Mexican Kitchen. I have not visited them and don't know about their gluten-free options or safety protocols.
Laguna Beach
GG's Bistro is a gem! This family-owned Mediterranean restaurant is downstairs from South of Nick's. The lower elevation means no ocean views, but you can easily walk along the beach before or after dinner.
The owners are knowledgeable about celiac disease, and there is a separate gluten-free menu.
The gluten-free options are extensive and excellent: salads, pasta, dolmas, seafood, steak, kebabs, gluten-free bread, and more. I highly recommend the creme brulee for dessert.
Irvine, Anaheim (plus locations throughout California)
For what can only be described as "gourmet tacos", visit one of Orange County's Puesto locations. This small chain has several restaurants throughout California.
Tip! Order three different tacos! The seasonal menu changes often, and I've enjoyed every taco I've tried.
Gluten-free items are clearly noted on the menu and the staff is knowledgeable.
Orange, Huntington Beach, Brea
Green Tomato Grill is a fast-casual restaurant with a few locations in Orange County.
The board is full of menu items with a GF symbol next to them. And most of the items that aren't gluten-free can easily be modified, like a burger on a gluten-free bun or chicken Philly melt on gluten-free flatbread. My go-to order is the chili verde bowl with chicken.
Try the crispy fried cauliflower (so good!) and sweet potato fries made in a dedicated gluten-free fryer.
The dessert menu changes frequently, but they are all gluten-free.
Costa Mesa
Another restaurant with a celiac in the family. The Newport Rib Company knows what it's doing when making celiac-safe barbeque.
Nearly the entire menu is gluten-free. All things that can be easily gluten-free are, such as meats and sauces, garlic mashed potatoes, vegetables, coleslaw, and more. Many other items are easily modified to be gluten-free. They even have a delicious gluten-free cornbread option.
Newport Rib Company is popular with meat lovers, gluten-free or not. So make a reservation or order takeout a couple of days ahead for summer holidays and Father's Day.
Irvine, Newport Beach, Corona del Mar, Laguna Niguel (plus locations in LA County and San Diego County)
Fresh Brothers is my favorite pizza place. Protocols are stellar, which is essential for a pizzeria. Gluten-free pizzas are prepared in a separate walk-in space with separate ingredients. The gluten-free pizzas are then baked at the top of the oven to avoid cross-contamination.
Your pizza will be delivered with a gluten-free sticker on the box for extra peace of mind.
The owners have a relative with celiac disease and have been intentional about serving those who are on a medically necessary gluten-free diet.
Gluten-free options include medium or individual-size pizza with so many topping choices, gluten-free or cauliflower crust, salads, and gluten-free chicken bites.
The best part about Fresh Brothers is how normal you'll feel when you get to order delivery pizza! Tired after a long flight? Get it delivered to your hotel. I often order it to feed a crowd of kids in my 100% gluten-free home.
Note: if you order online, be sure to follow up with a phone call to confirm gluten-free protocols for your order.
Anaheim, Brea, Santa Ana, Irvine, Corona del Mar, Mission Viejo (plus locations in LA & San Diego Counties)
Panini Kabob Grill boasts nearly 20 locations throughout Southern California, including several in Orange County.
We regularly order the family-style kabob meal with no pita bread. They are generously portioned for lots of leftovers! There are a variety of gluten-free meat options: chicken, koobideh, salmon, or steak.
The family meal also comes with grilled vegetables, your choice of salad (Mediterranean Greek, Romaine Avocado, or Caesar Salad without croutons), and rice (basmati or brown).
You can also order individual kabob plates.
I always place my order directly with the managers, who are knowledgeable about cross-contamination.
Garden Grove, Fountain Valley, Costa Mesa, Irvine, Cypress, Anaheim, Santa Ana, Buena Park, Westminster
Tastea makes the list thanks to my daughter, Miss E. She is a huge boba fan and vetted it herself.
They do serve a very small menu of breaded, fried items, which are all made in a separate kitchen. The drinks are made in the front of the store, away from the food.
The fruit Specialteas and Simpliciteas with boba are all gluten-free, per Miss E's research at the shop. She has not vetted the milk teas.
It's extremely rare, but they do occasionally offer seasonal beverages that may not be gluten-free. For example, they once offered gluten-containing pumpkin pie boba before Thanksgiving.
Irvine
Saffron & Rose makes the list thanks to my sweet tooth! It is a Persian ice cream shop that very much reminds me of gelato. Each ice cream actually contains the real ingredients of the flavor's name. Watermelon really means watermelon.
Flavors vary from decadent options like Nutella to florals, such as Rose and Jasmine.
Choose by flavor…. Pink Rose and Cucumber make a refreshing combination! (my usual)
Or pick your favorite color… purple Taro & Ube, orange Saffron & Pistaccio and Green Tea are all fun options.
There are flavors that clearly contain gluten, from cookies to noodles (yes, noodles). The staff knows which flavors have gluten.
I ask the employees to grab a clean scooper and scoop from an untouched container of ice cream (which are in a freezer right behind them) to prevent cross-contamination. The friendly staff has always been happy to make those accommodations!
Large Chain Restaurants with Gluten-Free Options
Orange County has several large, national or regional, chain restaurants that offer gluten-free options with good protocols.
They are easy to find in Orange County. True Food Kitchen has only one OC location (Newport Beach), but the other restaurants are ubiquitous.
You probably know and love some of these from home:
Must See Attractions in Orange County
I may be partial, but Orange County is absolutely lovely. There's so much to do, whether you like air-conditioned galleries, outdoor adventures, or making magical memories at the Happiest Place on Earth.
On your OC vacation, pay a visit to…
The Beach
It's California, after all. The beach is a must-do.
Any beach is wonderful, but Crystal Cove is a uniquely spectacular ocean hideaway.
It's a state park with rental cottages dotting the coast in various stages of restoration. A cottage reservation is hard to get, which I discuss below in the Where to Stay section. But, even without a cottage, there is nothing more timeless and peaceful than a day at Crystal Cove.
Pick up a tidepool guide from the visitor's cottage and look for little creatures in the rocks when the tide goes out. Read a book. Bodyboard. Paint. Visit the "Beaches Cottage" (from the Bette Midler film). Watch the water for dolphins. Go for a walk. Collect shells and put them back (it's a protected area).
Newport Back Bay
Newport Beach
There are wonderful options around the calm waters of the Back Bay in Newport Beach:
Disneyland
Anaheim
Disneyland is one of the main reasons visitors come to Orange County. For good reason. It really is a magical place.
But for gluten-free guests, Disney is next level! Nearly every restaurant in Disneyland and California Adventure can safely accommodate celiac disease, gluten intolerance, and even multiple food allergies with excellent cross-contamination protocols.
Learn more about eating gluten-free at Disneyland:
Garden Grove
Our first stay at Great Wolf Lodge Indoor Water Park & Resort blew me away. The head chef doted over Miss E and made us feel like he had no one else to cook for but us! Every visit after that first one has been just as impressive. Allergy and celiac awareness at Great Wolf Lodge is outstanding.
The chef advised sticking to the lobby-level restaurants and buffet, rather than the fast-food-style options on the water park level. When we wanted to eat in between splashing around, he made us delicious to-go meals to take back into the water park.
The regular fried food is breaded with rice flour, so the fryer is completely gluten-free. French fries, fried chicken & waffles are all available!
At the breakfast buffet, the chef will safely prepare whatever you like from the buffet. It will go straight from the kitchen to your table to prevent cross-contamination on the buffet.
The swim park is a hit with kids of all ages, from toddlers in the splash section to thrill-seeking tweens. There are also non-water activities in the hotel lobby: a trick-or-treat trail at Halloween, arts & crafts, pajama dance parties, and more.
The Wolf Den suites are super cute with a separate kids' area designed to look like a wolf's den. Between the den and the wolf ears you get at check-in, your kids may take to howling for fun.
Exclusive Deal! Save up to 30% year round at Great Wolf Lodge with Promo Code BPOWER
Hiking
In between the Cleveland National Forest and the Pacific Ocean lies an area known as the Irvine Ranch Natural Landmarks. It includes some of our most beautiful nature preserves and hiking/riding trails.
Sign up for activities, including yoga hikes and family full-moon hikes at Let's Go Outside.
Laguna Beach Artist Scene
Known for its artsy vibe, Laguna Beach is a haven for all things creative.
Art studios, classes, and events abound. You can read the latest happenings at Visit Laguna Beach.
Popular annual events include the Sawdust Festival and Pageant of the Masters.
The latter is fascinating. Pageant of the Masters is a unique show where works of art are recreated with real people. The real-life versions are virtually indistinguishable from the originals.
Shopping
Shopping is big in Orange County, and our outdoor malls are especially fun.
The Irvine Spectrum has a splash pad, Ferris Wheel, kids' climbing area, frequent entertainment… oh, and shops!
Fashion Island in Newport Beach has a koi pond with large cement stepping stones that practically beg kids to jump across… every once in a while, a kid misjudges and gets a little wet.
Both malls are dog-friendly. And both have the stand-bys California Pizza Kitchen and PF Changs, for gluten-free options.
Fashion Island also has True Food Kitchen, one of my favorite restaurants.
Santa Ana
Both are great for young kids and full of opportunities for educational play.
The Santa Ana Zoo, which is a small, local zoo full of monkeys, is ideal for the preschool crowd.
The Discovery Cube, a science center, is more suited to elementary-age kiddos.
Both have a Beansprouts Cafe, which has the following philosophy about allergies (including gluten-free) on their website: "At Bean Sprouts, we don't want anyone to feel like they have to sit on the sidelines when visiting their favorite family destination. We do our best to accommodate most allergies!"
That has been our experience at both places over the years. We've particularly enjoyed salads, pizza, and "crocamole".
Irvine
Irvine
Visiting during the summer months? Spend time at Wild Rivers, a relatively new outdoor water park that opened in 2022.
Pack a picnic lunch for the gluten-free members of your party. Outside food is generally not allowed, with the following exceptions: "unopened, sealed or empty water bottles, baby food, and food for guests with special dietary restrictions in limited quantities."
Or visit one of the many popular and free splash pads around Orange County.
While Orange County is considered suburban, "it is the second-most-densely populated county in the state, behind San Francisco County".
In the midst of this sea of urbanization, Tanaka Farms is an island of idyllic farmland. Farm tours include a wagon ride around the farm, sampling fresh vegetables, picking an in-season item (strawberries, watermelon, or pumpkins), and visiting the barnyard.
Strawberry-picking is the best. Eat as many strawberries as you can in the field. Totally allowed! Plus, take home a pound of strawberries per person.
Visit the market stand after your farm tour to take home fresh fruits and vegetables.
Irvine
At Pretend City, preschoolers pretend to be farmers, dentists, chefs, and Trader Joe's employees. Each room or area is a different part of the city, much like your own. Kids can visit the beach or a gas station or stop to put on a show complete with costumes and instruments.
Bring your own food or purchase snacks at the vending machine. These aren't your typical vending machines. They are targeting moms of toddlers. You'll find a lot of healthy snacks and gluten-free choices.
Costa Mesa
Another great place to visit, if you have preschool-age kiddos, is the Environmental Nature Center. There is a small interactive exhibit inside, and the grounds behind the building are ripe for exploring and picnicking. So close to civilization, but you'll feel like you are on an adventure deep in the woods.
There is also a lovely butterfly garden that is open intermittently.
Check the website before visiting for special events and public visiting hours, which are limited.
Buena Park
Knott's Berry Farm has Camp Snoopy for the preschool crowd, rollercoasters and thrill rides for the adventurous, and tamer rides and shows for everyone else. In the land of Universal Studios and Disneyland theme parks, Knott's is a relatively typical amusement park.
Except for evenings in October when it turns into Knott's Scary Farm. Perfect for fans of The Walking Dead.
Knott's is a bargain compared to Disney, and my kids love it.
Gluten-free options will disappoint. Eat a filling breakfast before you go. Pack lunch. Buy an Icee for an afternoon treat. And leave before dinner.
Where to Stay
Orange County is full of luxury resorts, affordable motels (including some in sketchy areas), and everything in between.
To facilitate sight-seeing, I recommend booking one of the following:
For a beach vacation: a hotel within walking distance of the beach anywhere from Huntington Beach to Laguna Beach. I am personally partial to the area between Newport Beach and Laguna Beach. Farther South County is also beautiful, but, depending on your itinerary, it can be a long drive to get to other tourist sites.
To see sites throughout OC: a national chain hotel in Newport Beach or along the 405 and 5 freeways for a nice, central location to most tourist activities.
For a Disneyland vacation: any of the 3 Disney-owned hotels or a nearby Anaheim hotel within walking distance of the parks
Newport Beach
For a five-star luxury experience, and matching price tag, Pelican Hill is my favorite. The restaurants do an amazing job accommodating celiac disease. Great service is their specialty and this translates into careful preparation of gluten-free meals.
The Villas (2-4 bedroom homes) are worthy of oil-magnate money. A stay in a villa means you'll be met with "May I spray you with Evian mist, ma'am?" at the pool, cloth on the floor by your bedside for turn-down service (so your feet don't dare touch the carpet when you remove your slippers before getting in bed), and breakfast served by the butler. That's all true.
The bungalows are comparatively more affordable. Villa or bungalow, if you're splurging for a stay at Pelican Hill, I highly recommend an ocean-view room.
The Pacific Ocean and golf course views at every turn are breathtaking. If you're not staying here, you can always stop by for lunch at the Coliseum Pool & Grill overlooking the Coliseum Pool and the ocean.
Irvine
This three-star hotel in Irvine checks all the boxes.
Convenient location, clean, friendly staff, a pool, and a kitchen to make your own food.
Amazon Fresh and Instacart are available if you're like me and don't want to grocery shop on vacation.
Newport Beach
Far and away, my number one recommendation is a Crystal Cove Cottage, if you can snag one.
Make an account at Reserve California and be ready to book precisely at 8 am six months prior to the first night of your stay. Have your cottage and dates picked out, and make sure your chosen cottage isn't already booked (if someone else booked a week-long stay a few days prior, that cottage will already be booked).
In my experience, all cottages are sold out within a second. Keep trying and be very flexible with your travel dates.
You can also sign up for notifications and try to book a cancelation. Those are more likely to appear in winter, but Crystal Cove is just as lovely in the winter.
Each cottage is unique, but they all include a standard-size vintage fridge, microwave, and kitchen sink… no stove, no dishwasher. We're local, so I usually bring a slow cooker or Instapot to easily throw together meals. But if you're flying in, plan on fresh food and microwave-friendly meals.
The cottages are just that, cottages… think rustic, not luxury. You will be transported to a simpler time while making memories in the cove.
Prices are unbelievable for the location. Cottages rent for a few hundred dollars per night. There are also private rooms in shared, dorm-style cottages. Some of those are under $50 per night.
Huntington Beach
The Hyatt Huntington Beach is a popular stay-cation spot for OC moms with little ones. The kids love the pool area and water slides.
Huntington Beach has a lot of activities to offer, from surfing to bike rentals. Teenagers especially like the vibe. I used to host exchange students from Spain and they basically lived at Huntington Beach all summer.
Vacation Rental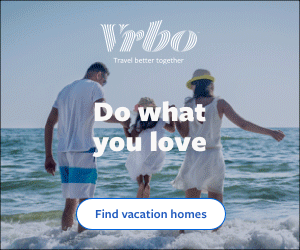 A VRBO is always an excellent idea. Look for homes around Balboa Peninsula, Balboa Island, Corona del Mar, and Laguna Beach. Ideally, find a rental within walking distance of the beach and all of the unique and charming shops located in those areas.
A vacation rental gives you the benefit of your own kitchen, lots of space, and a home where you can relax comfortably.
Want help with your gluten-free meal planning on vacation? Sign up for my free planner:
Disneyland Hotels
Anaheim
We have enjoyed staying in each of the three Disney-owned hotels in Anaheim: the Grand Californian, Disneyland Hotel, and Paradise Pier. All three have waterslides!
The Grand Californian has a breathtaking lobby and options for Downtown Disney or theme park views. Plus, there is a private entrance to California Adventure. Of the three hotels, the Grand Californian has the best location near the entrance to both parks and even a back entrance to California Adventure.
While the Grand Californian is more luxe, the Disneyland Hotel has the edge for our family due to the monorail-themed pool area. Plus, there's the actual monorail transportation right next to the hotel, which is a fun way to enter Disneyland.
The Disneyland Hotel has a nostalgic Disney feel and easy to navigate with all of the hotel room towers (and just as importantly, Goofy's Kitchen) located around the pool area. If you book a really high floor, you can enjoy a fireworks view with the music piped into your room, but Disney is quick to let you know those views are not guaranteed.
While we have enjoyed Paradise Pier, it ranks third, primarily due to the ideal locations of the other two hotels. The kids enjoy the pool, fireworks viewing from the pool deck, World of Color views from the room (some rooms), and the character breakfast. It is currently being re-themed as Pixar Place Hotel, and some amenities are closed. Double-check the Paradise Pier website for current details.
Pick any of the Disney-owned hotels and you will get the same gluten-free magic Disney offers inside the parks. Ask for a chef or allergy-trained cast member. The hotel restaurants have allergy menus, including via mobile order in the Disneyland app.
Other Disneyland Options
The Disney-owned Hotels are pricey. There are a number of more affordable, off-property hotels that are very close to the park. When staying off-site, I recommend choosing a hotel within a 10-minute walk. Popular options are Park Vue Inn, Howard Johnson Anaheim, and the Candy Cane Inn.
Groceries
Orange County is a food oasis with grocery stores everywhere.
You'll find all of your gluten-free favorites at just about any grocery store or big box store. My personal favorite grocery store is Sprouts Farmers Market. There are also countless Target stores and Whole Foods Markets. If you're looking for a more traditional grocery store, you'll find everything you need at Ralph's, Von's, or Albertson's.
Amazon Fresh and Instacart are both available for grocery delivery throughout Orange County. You can even order a Costco rotisserie chicken through Costco/Instacart.
California Road Trip
Taking a California road trip? Check out these related posts: